Areas of the Airport City
Stockholm Arlanda Airport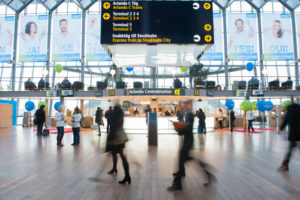 Stockholm Arlanda Airport is Sweden's largest airport. Arlanda has four terminals. Domestic flights
departs from terminal 3 and 4. International flights departs from terminal 2 and 5. Sky City, Park City and Cargo City are part of Stockholm Arlanda Airport. Read more about the airport at Swedavia's website.
Stockholm Arlanda Airport at Swedavia.com
Sky City
The city centre of Airport City Stockholm is characterised by growth and an enterprising spirit. The neighbourhood is designed to enable people from all around the world to meet – regardless of whether they are exchanging experiences or doing business.
The streets here will be lined with restaurants, shops and office reception areas. Trade show and conference facilities are also being built, as are hotels in different price categories. As a result of meticulous, modern city planning, people who work in the area will have access to a vibrant city life and calm oases in the form of green spaces and small parks.
Like the rest of Airport City Stockholm, Sky City is being developed with a focus on sustainability. The aim is for the area to be climate-neutral. A well-developed mass transit system makes it easier for people to leave their car at home in the morning, and there are advanced plans for developing the cycling infrastructure.
Natural light in office buildings here will make it easy to save energy. The aim is to have all the buildings in Airport City Stockholm environmentally certified.
Park City
As Sky City's closest neighbour, Park City has a location that is hard to beat. However, only now – with the development of Airport City Stockholm – will the area achieve its full potential. The long-term car parks and car rental facilities that have been located in this area for a while will now be joined by office buildings, hotels and other operations affiliated with Airport City Stockholm and the transport sector. The landscape, which previously consisted mostly of paved surfaces, will also be balanced by green spaces and a park landscape.
Park City is intended for companies that are looking for a place which is suitable for transport operations and that need to be close to Sky City and Stockholm Arlanda Airport to reach their customers.
Cargo City
Southwest of the terminal area, adjacent to both Stockholm Arlanda Airport and the E4 motorway, you will find Cargo City. This is where Airport City Stockholm's large-scale centre for cargo and logistics operations is being developed. The place is ideal for companies that need plenty of space, office premises and great access to transport routes on the ground and in the air. There are currently a number of major cargo and logistics companies with operations in the area, and the plan is to construct cargo and logistics buildings with as much as 150,000 sq.m. of floorspace. This development is an important piece of the puzzle for companies that choose to set up operations in the area.
Arlandastad
Arlandastad is an area south of Stockholm Arlanda Airport located by the highway E4. The area was inaugurated in 1992 when the Eurostop Arlanda shopping center was launched. Arlandastad also has a business area and an area for transport companies. Several major changes are underway at Arlandastad.
Business Area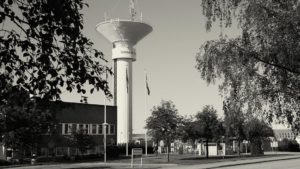 Close to the E4 motorway between Märsta and Stockholm Arlanda Airport, you will find Airport City Stockholm's classic business park. A variety of operations are located here – everything from transport to construction to retail. Mass transit makes it easy for people to get here by public transport, and there are also plenty of shops and other services in the area.
Scandinavian XPO (former Eurostop)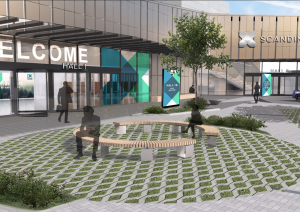 In 2017, Eurostop Arlanda was acquired by Arlandastad Holding AB with the plan to develop a new international meeting and event venue. Scandinavian XPO will be a multi-use facility with capacity for over 5000 people. Perfect for fairs, events, conferences and meetings, carefully planned for visitors, exhibitors and organizers.
DriveLAB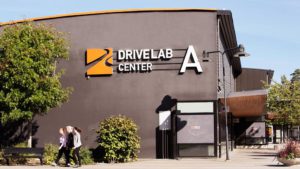 Located in the middle of Airport City Stockholm is DriveLAB Stockholm – a gathering place for training and development in traffic and traffic safety. It is an arena for the automotive industry of the future, where companies and researchers meet in a creative environment. Product development takes place alongside training activities and city testing that requires large areas. DriveLAB Stockholm is where knowledge in the field is gathered, shared and taken forward.
Rosersberg logistics
Rosersberg is driven by the goal of creating the most environmentally smart logistics centre in the world. This neighbourhood, with its warehouses and parking facilities, is a hub for both large and small logistics companies that put a high value on sustainable development as well as space and location. With its location just of the E4 motorway, which takes you between Stockholm, Uppsala and Stockholm Arlanda Airport, Rosersberg has already been discovered by companies involved in everything from moving services and cargo to food and recycling.